The sharp rise of gamification's value proves how well it improves customer engagement and customer loyalty. In this blog post, we'll explore the reasons why your business should seriously consider gamification in your loyalty programme.
---

Contents:
---

Find out more about gamification in loyalty programmes in our loyalty Programme Comparison guide. Learn about the different types of programme and which will best suit your business.
---

How Effective is Gamification in Improving Customer Engagement and Loyalty?

"Research shows that gamification strategies uplift customer engagement by 47%. In addition to encouraging customers to engage with your brand, gamification"
Boosts brand loyalty by 22%

Increases brand exposure by 15%

Increases wallet share by 55%

According to another report, not only do gamified elements connect with customers, they lower customer attrition by 63%. Happy customers expect consistency from business owners when delivering unique and personalised experiences.

If all this wasn't enough already, gamification also improves the health of your bottom line too. Increasing engagement with customers encourages repeat purchases, increasing revenue anywhere between 6% and 10%.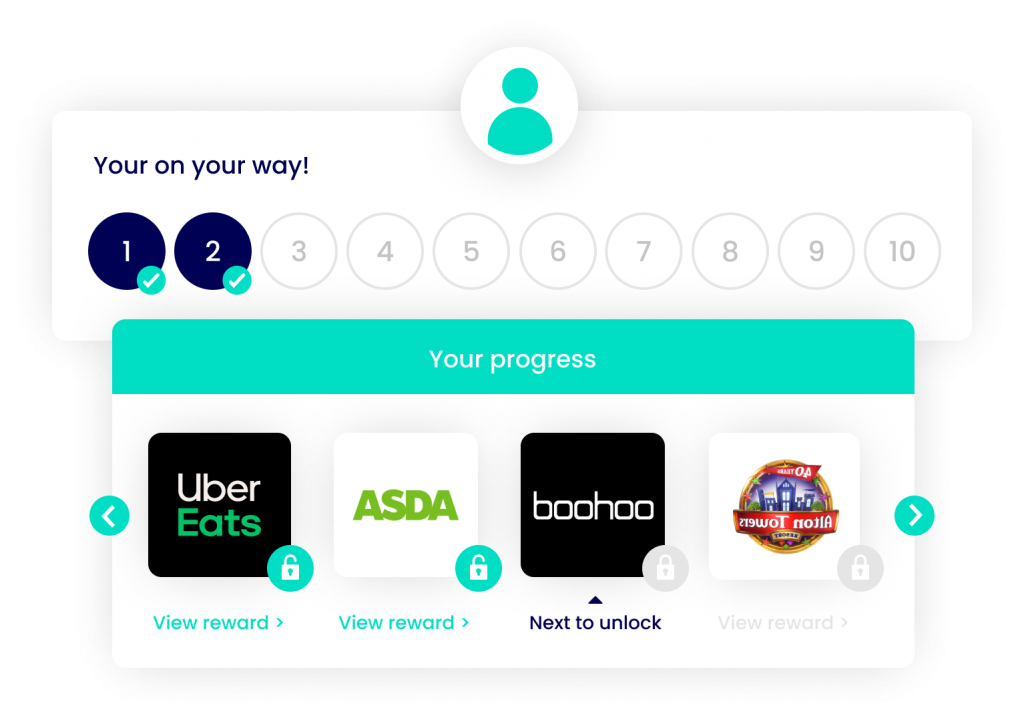 ---
How Does Gamification Work in Customer Loyalty Programmes?
A gamified loyalty programme enriches the experiences of programme members. For example, you could add leaderboards in tiered or point systems, giving your programme a competitive edge. The loyalty programme member would climb the leaderboard, reaching a new tier or recognition for collecting points. In return for their loyalty and engagement, they receive a reward.

If you've got or are planning to get a referral programme, gamification is also effective at promoting brand advocacy. A gamified referral programme works the same as tiered or point based systems. In that you place brand advocates onto leaderboards, which they climb for every successful referral.

The action you want customers to take is the only difference between how different types of gamified programmes work. With gamified referrals for example, you expect customers to advocate your brand. Whereas a gamified points-based system rewards customers for earning points.
---

Which Gamified Features Should be in Your Loyalty Programme
A wide selection of gamified features is available for you to choose from. Although you may find that some features work better in your business than others. You can avoid a process of trial and error by consulting gamification and loyalty specialists. For now, let's explore several gamified features and why they are so effective.


Treasure Hunt: Online and In-store
Treasure hunts are a great way of promoting your latest product or service. As well as directing fresh attention towards areas of your business that typically go by unnoticed. Whether it's online or a real life in-store treasure hunt, you'll build excitement, curiosity and attract potential customers.

Make sure to keep the event exclusive to programme members only. That way, you give your target audience a reason to sign up to your loyalty programme.


Personal Best
Perhaps you worry that leaderboards may deter the less competitive person/customer in your audience. Some of your customers may grow to resent leaderboards that favour more purchases.

That's where personal best or user progress bars enter the conversation. They offer an excellent alternative to leaderboards as users are in competition with themselves rather than with others.

Personal activity charts give users a point of reference to "improve" themselves and a chance to win the highest score. In reality, you encourage them to increase or maintain certain levels of engagement to receive special rewards. For some people, losing out to themselves is much more palatable than losing out to others.

The best approach is to give customers the option of leaderboards or personal activity charts.


Spin the wheel
Prize wheels remain one of the most well known games across many sectors. Smartphone applications and in-store gadgets work great for hosting prize wheels. Perhaps consider an in-store prize wheel to increase footfall. Visitors could get a chance to win access to a higher tier level, a certain amount of points or discounts.

Spin the wheel is perfect for launches and building a sense of excitement in interactions between your band and customers.


Leaderboards
Some of your customers will enjoy the competitive side of things. Leaderboards are the perfect gamified feature for encouraging social interactions between programme members. They also create a sense of community within your existing customer base.

Consider leaderboards if building a community is a priority for your business right now.


Badges
Badges are official symbols of a customer's status or achievements within your business. Customers therefore find fulfilment in acquiring badges, motivated to repeat specific behaviours to gain more and display them. Whether that's on community forums or on their social media channels. Either way, your customers potentially displaying badges to the outside world doubles your marketing efforts.

If acquiring new customers is important, well branded and fun badges may help your business stand out from competitors.
Streaks and milestones
Streaks and milestones track a customer's commitment to your brand. Usually, brands give customers a set of instructions to follow that qualify them to reach certain milestones. This could be using the loyalty app over several consecutive days.

Which is why streaks and milestones are great for subscription-based model businesses to drive engagement between purchases.


Surveys and quizzes
Customer feedback plays a vital role in improving your overall customer experiences. Little reason exists as to why a company can't make giving feedback fun for customers. Therefore, consider making quizzes out of surveys and feedback forms. Offer them a prize for participating at the end of the survey.

That way, you'll drive even more engagement with a crucial aspect of data-gathering. In the long run this will give you more insights that help you improve your services. So not only will you be building trust by acting on insights from feedback. You customers will enjoy actively contributing in the feedback loop.

---

Benefits of Gamification in Customer Loyalty Programmes

A study found that over 60% of customers who interact with gamified elements typically make purchases. Aside from encouraging purchases and increased customer loyalty, gamification benefits your business in other ways.


Helps you stand out from the competition
Loyalty programmes with gamified elements add another layer of contrast. Competitors may have similarly great rewards and unique co-created benefits with partners. But adding gaming features on top of what they and you already offer is a game-changing twist. One that proves to drive consistent engagement and interaction.

Drives customer engagement and social shares

Games are highly interactive entertainment and naturally draw people to them. We've already seen the effect gamification has on customer engagement. It also encourages word-of-mouth when it rewards existing customers for advocating your brand to friends and family.
Saves you money
Getting sufficient funding for loyalty programmes can be a serious issue. The fundamental premise behind loyalty programmes is that they pay for themselves through increased customer lifetime value. That's not always the case but gamification, your loyalty programme can become more cost-effective.

As we know, gamified features are powerful motivators that encourage interaction and engagement. Plus, they give customers more value by way of memorable and fun experiences. Experiences that customers refuse to miss increase the chance of desirable commercial outcomes. Therefore, your loyalty programme begins to demonstrate ROI as engagement with it increases.

---
Using AI & Data to Optimise Gamification
While AI and gamification have been available for some time, a combination of both technologies holds serious potential. With the help of AI-powered gamification you can resolve strategic queries and predict crucial business outcomes. And since gamification increases customer engagement, it smooths the process of data-gathering in back-end systems.

AI could then evaluate customer behaviours in datasets to understand which gamified features drive high engagement. It could also highlight weaker areas, and generate new variables to more effectively optimise your gamified reward programme.
Take Advantage of first-party data
More businesses than ever have invested in data infrastructure. This gives them a complete picture of their customers' distinctive buying habits, preferences and motivating drivers. Thus allowing for even more accurate customer segmentation.

Gamification works the same way as cutting-edge data infrastructures. It offers consumer-level behavioural and transactional data. So, whether you handle data in-house, with a third party or not at all, gamification is a great solution.

---
Examples of Gamification in Loyalty Programmes
Here's a few examples of gamified loyalty programmes done right:


Victoria's Secret - trivia games & quizzes
PINK Nation is a subscription-based app developed by Victoria's Secret. It rewards users with points if they join "Fashion Show Sweeps", with a chance to win a trip to the latest fashion show. PINK Nation members access a variety of benefits such as style tips, health and wellness advice, and exercise music.

Loyalty programme members can take part in daily trivia contests and share content on social media for bonus points. In addition to quizzes and user polls, they also get access to custom wallpapers and stickers for the app.

Consider the range of options available to PINK Nation. Invitations to fashion events are highly attractive because of their relevancy and exclusivity. Giving points to members for sharing posts on socials encourages user-generated content. In addition, polls gather feedback to optimise the experience, and the customisable app gives users a sense of ownership.


Nectar - scratch and win
Nectar, a British loyalty card scheme, uses its mobile app to boost customer engagement and brand loyalty. Nectar customers earn points for buying products or services from partnered businesses.

Users get the chance to play scratch and win games through push notifications. Customers who use Nectar's scratch cards have a chance to increase their point totals. A cost-effective and efficient strategy gives programme members familiar games.

See how Nectar uses familiar games to streamline the process of interaction. Customers don't need to learn the rules of the game as they are most likely familiar with scratch and play. Furthermore, participants find this type of game exciting. Which is why many businesses continue to use it and as we've seen, even digitise it.


Virgin - treasure hunt
Virgin staged a fantastic treasure hunt to promote their loyalty app. They hid over a million virtual and digital coins (with the founder's image) on Virgin's websites and in the UK. A simple but highly effective slogan said "V marks the spot."

Members earned points on the Virgin Red app when they inputted a code featured on these coins. They were not sure how many points they would earn until they input the code, so there was an element of suspense. You could use the points to get access to secret vaults containing exclusive giveaways and deals.

Virgin demonstrated a master class in the art of gamification. A game that invited everyone (not just customers) to take part and interact with. Not only did this bring huge news to the app, it set the tone of what potential members could expect. Memorable, unique and exciting experiences not often found elsewhere.

---
Secure Customer Loyalty by Gamifying Your Loyalty Programme

Gamification can turn a customer's curiosity into a strong and loyal connection if used well. While designing a modern loyalty programme, you should take into account a customer's unique preferences and demands. With gamification, you can achieve this while building emotional connections that improves customer loyalty.
Find out more about gamification in loyalty programmes in our loyalty Programme Comparison guide. Learn about the different types of programme and which will best suit your business.