In this blog post, we'll learn how some of the biggest brands reward customer loyalty. Major brands recognise the importance of rewarding customers. Doing so, improves retention, engagement and eventually acquisition through referrals.

Many brands achieve this by implementing innovative strategies, for example loyalty programmes that reward desirable customer behaviour. Yet with so many loyalty programmes to choose from, how do you know which one is right for your business?

After all, each loyalty programme has its benefits and its drawbacks. A one-size-fits-all approach sets businesses up for failure. What works effectively for one business could fail to resonate with the audience of another.

After reading this blog post, you'll have learned about the recent activities of major brands regarding customer loyalty programmes. You'll understand why they chose a specific loyalty programme and use that information to shape your own strategies.


---

Contents




Why Rewarding Customer Loyalty Matters

Before we delve into the specific examples, let's understand why rewarding loyal customers is vital. Customers that love your brand are your biggest advocates. Not only do they make repeat purchases, they also promote your brand to others. Here are a few reasons why rewarding customer loyalty should be a top priority:


Increases Customer Retention: Loyal customers are more likely to stick around, reducing churn and increasing customer retention rates.



Boosts Customer Spending & Lifetime Value: Existing customers tend to spend more than new customers. By rewarding loyalty, you encourage higher spending.



Enhances Customer Service: Loyal customers expect great service, and by meeting and exceeding their expectations, you improve customer service standards.



Expands Customer Base: Happy customers refer friends and family. Brand advocacy saves you more money compared to traditional marketing methods.
---

Now, let's explore how big brands are effectively rewarding customer loyalty:
Starbucks set a new standard for how to reward customer loyalty. Their widely recognised Starbucks Rewards programme uses a points-based system in a tiered framework.
Programme: Starbucks Rewards

Programme Type: Points + Tiered Loyalty Programme

Key features:

Two tiers include Green and Gold. Newly signed up customers automatically access the Green Level. Members earn a Free Drink Reward for every 150 stars they accrue.



Green Members may also receive early or extended access to special menu items, discounts, and Bonus Star promotions.



Green Members who collect 450 stars within 12 months can upgrade their account to Gold. Keeping perks from Green Level in addition to free syrups, extra shots of espresso, and free whipped cream.



Gold Members also receive a free drink for their birthdays.
Why it works


Two tiers keep the structure of the programme easy to follow. Syrups, espresso shots and whipped cream enhance the products that Starbucks provides for its customers. Offering these extras for free to Gold Members is a powerful incentive to upgrade accounts. Consider this if your products or services have additional features.



Starbucks also developed an innovative and engaging app, allowing their customers to check how many stars they've got. In addition to how many they need to access specific benefits or upgrade their account.



In today's competitive marketplace, it's not enough to just offer a rewards programme. Businesses need to make their programmes stand out. Unique UX is an essential part of that. Starbucks' mobile app generates around 6 million sales per month, making up around 22% of all sales in the US!
---
O2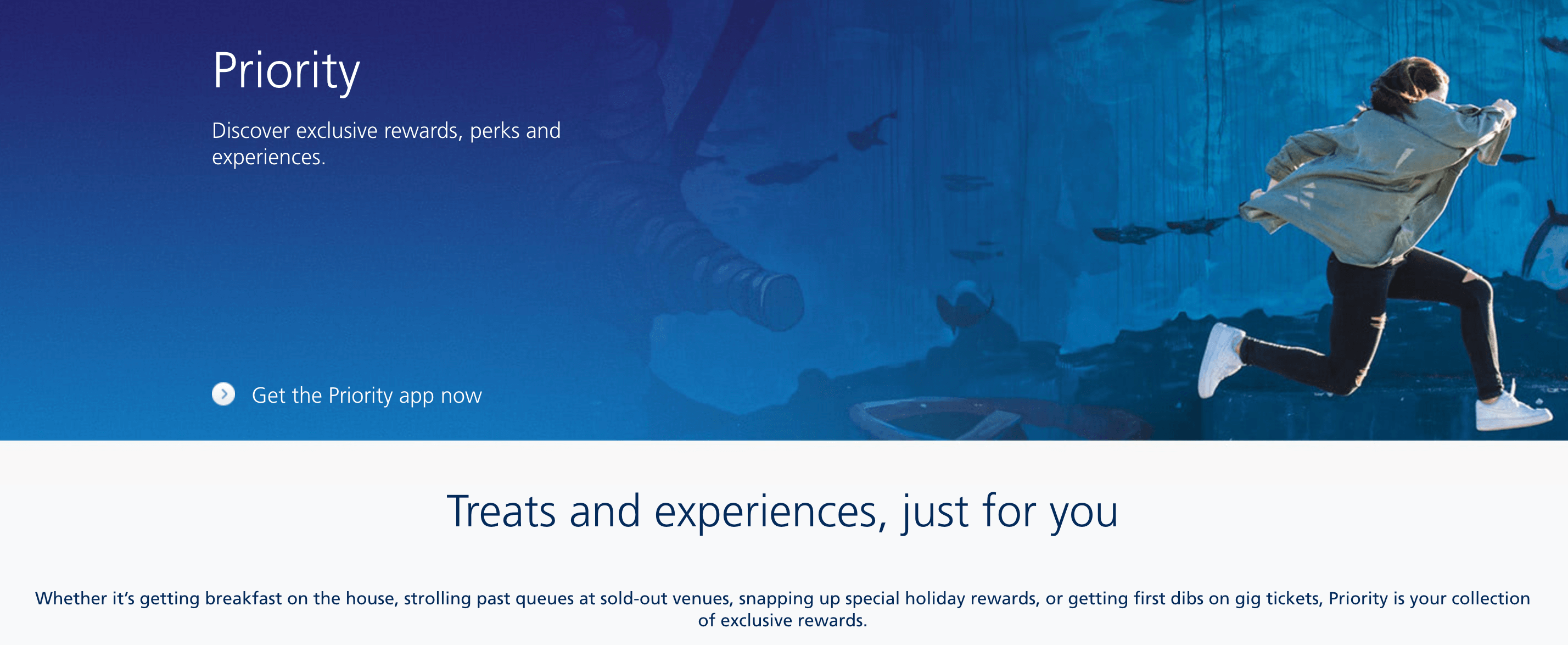 'Always on Rewards' or 'Perks' give customers access to exclusive discounts or benefits, simply by being a customer. Always On rewards are redeemable at any time and not linked to spend. O2, perhaps the best example, pioneered Always On rewards in 2008.
Programme: O2 Rewards & Priority

Programme Type: Always On Rewards Programme

Key features

With O2 Rewards, customers earn up to 10% of their top-ups back every three months. Customers can spend it on extra credit, phones and accessories, shopping vouchers or Ticketmaster tickets.



O2 Priority offers exclusive weekly treats and discounts on food, drinks, and shopping. In addition to 48 hour early access to buy tickets for the biggest acts at O2 venues.



Why it works

Always On rewards appeal to customers' natural fear of missing out (FOMO). A powerful influencer, FOMO clearly sets out what customers stand to lose, if they choose to take their business elsewhere. If you're in a saturated market, Always On could help you stand out from competitors.



O2 achieved great success with their rewards initiative. With it being one of the fastest growing loyalty programmes in the UK.



O2 Priority rewards gets 75 views a second and customers redeem 5 points every minute each day. That comes as no surprise as rewards are always available. Customers can redeem deals and discounts at any time, saving them money in the process when they need it most.
Want to build a positive brand perception? Higher rates of engagement? Keep your business front of mind? Prioritise Always On.
---
Boots

Boots launched their Advantage Card in 1997. Today, Boots customers earn 3 points for every pound spent on products in-store, online or via the Boots app. Every point equates to a penny that customers can save up and spend on products.
Programme: Boots Advantage

Programme Type: Earn & burn and loyalty programme

Key features

Customers earn points buying products in-store, online or via the Boots app.



Opportunities to earn extra points during special 'points events'.



Advantage Card holders can check their balance in-store, on their online account or the Boots app.



Customers can save up points for special occasions or holidays. For example, they can use points instead of money to purchase Christmas or anniversary presents.



Why it works

The initial investment of the Advantage Card cost Boots a total of £30 million. No doubt that's a huge investment but the scheme is one of the most successful programmes in the UK. Boots claims the Advantage Card has increased retention, spending and overall profits.



There's no requirement for spending the same huge amounts of money that Boots invested in their rewards initiative. Implementing a points-based programme can be relatively low cost. Which is why so many businesses use them and they're popular with customers!


Bear in mind that loyalty programmes also offer valuable insights about customers. Boots tracked the behaviours of customers with the Advantage Card. In doing so, they identified their main demographic as women between the ages of 25-45. This led to them creating bespoke offers, increasing the likelihood of customers redeeming offers.
---
American Express


American Express offers unique, co-created rewards with their loyalty programme. Partnering brands range from hotels, membership organisations, online and sports retailers. The loyalty programme relies on a points-based system like Starbucks.

However, unlike Starbucks, cardholders spend their Membership Rewards points on travel discounts, merchandise and gifts from partnered brands.
Programme: Membership Rewards

Programme Type: Loyalty partnerships

Key features

Membership Rewards cardholders earn points for every purchase. Cardholders have access to an extended catalogue of categories and brands.



There's also two premium card options: Preferred Rewards Gold Credit Card and The Platinum Card. Premium cardmembers receive travel privileges, faster rewards, and worldwide access to airport lounges.



American Express has different credit cards with more benefits and higher fees, encouraging people to upgrade to better accounts.




Why it works

The programme has many partners who work together to offer a complete service for frequent travellers. Consider a partner programme if you've got access to a partner or affiliate network. Remember, offers from partners must enhance your products or services. That way you ensure the co-created, unique offers you devise, resonate with your audience base.



American Express cardholders can also redeem their points with partner loyalty programmes. For example Delta SkyMiles or Marriott Bonvoy, often with favourable exchange rates too. This compatibility strategy between loyalty programmes is a fantastic point of difference. A diverse array of rewards caters to a broader audience and enhances engagement.
---
Amazon


Amazon offers a premium loyalty programme which provides members with various benefits. Amazon Prime gives members free two-day shipping, access to streaming services, and other exclusive deals. Unlike most loyalty programmes, Amazon Prime doesn't rely on a points-based system. Members pay monthly or annually instead.


Programme: Amazon Prime

Programme Type: Premium loyalty programme

Key features

Members access huge catalogues of movies and TV shows on Prime Video, keeping them engaged even outside the purchase cycle.



Subscribers can also stream music ad-free and have access to thousands of playlists and stations.



As part of their annual membership, Prime members often get exclusive discounts on various products. This increases their savings and builds a sense of anticipation. In addition, members get early access to Lightning Deals and Unlimited storage on Amazon Photos.



Amazon Prime also allows members to share all their benefits with members of their household.
Why it works

It's clear with the selection of benefits that Amazon wants to go beyond products or service-related rewards. They want to provide members with a holistic experience that drives engagement and loyalty. Given that members need to pay to access these benefits, rewards need to appeal to customers.
This may come as a surprise but paid loyalty programmes actually achieve higher retention and acquisition.


According to McKinsey, 59% of consumers are more likely to choose brands with paid loyalty programmes. Around 43% of which make weekly purchases.

That's because businesses with paid loyalty programmes offer a truly premium service and experience, which compels consumers to pick them.
---
JD Gyms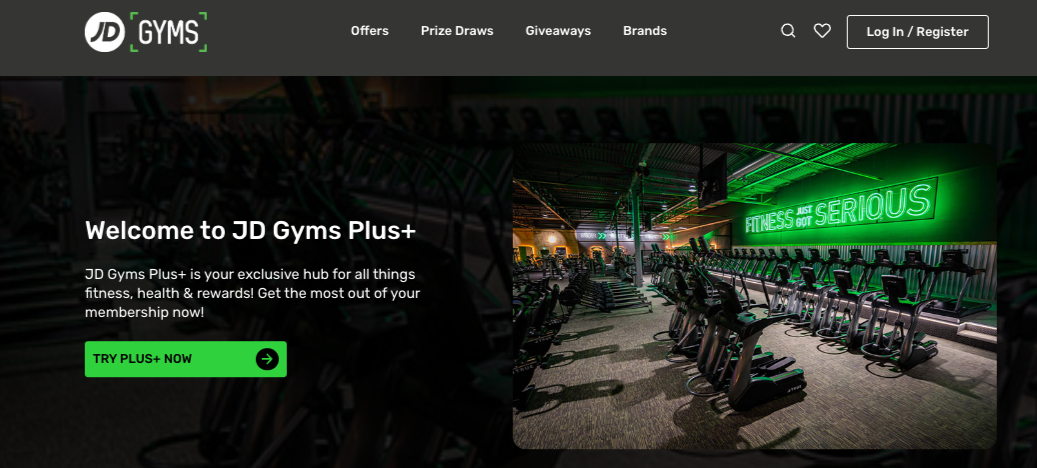 JD Gyms Plus is another example of an Always On loyalty programme. Members access rewards from hundreds of brands. Some of the most popular brands are My Protein, Apple, biggest UK supermarket chains, Beer52, and Audi.
Programme: JD Gyms Plus

Programme Type: Always on Rewards Programme

Key features

Existing JD Gyms can upgrade their account for multi-site access to gyms and access loyalty programme perks.



Basic memberships cost £20.00 but for just £5.00 more, JD Gyms Plus members can access discounts from hundreds of leading brands.



A large catalogue of brands means there is something for everyone.


Plus also offers excellent benefits. These include Free Gym Buddy pass, 1 free PT session, two weeks advance for booking classes, and discounted merchandise.
Why it works

JD Gyms Always On loyalty programme operates in the same manner as O2 Rewards. Driving engagement, building a positive brand perception, and allowing members to redeem rewards when it suits them.

The rewards available on JD Gyms Plus also complement the main service they provide. Like any other customer, gym goers redeem discount codes for that resonate with them. In addition, personalised rewards that align with customers' objectives and goals drive long term engagement.



JD Gyms also drive a truly exceptional value proposition with the additional benefits they offer. A Gym Buddy pass demonstrates they've researched pain points that gym goers experience.
The free PT session boosts exposure for freelancers (possible referral source?). The two weeks in advance booking will also make the customer feel appreciated. As it demonstrates JD Gyms value their time and prioritise them.
---
Uber
A referral programme leads to the ultimate optimised method of acquisition. Uber continues to grow rapidly and much of that is thanks to their referral programme.
Programme: Uber referral programme

Programme Type: Referral programme

Key features

Uber provides every existing user with a unique referral code, which users can find in the Uber app or website.



The existing user shares their referral code with friends, family, or anyone they wish to invite. Uber encourages brand advocacy on social media, email and direct messaging.



Uber incentivises brand advocates with credit or discount on future Uber rides. The type of reward depends on the location and current promotions. The referrer receives the reward after the person they've referred signs up and takes their first ride.


The dual-sided model of the referral programme also rewards new users. They typically receive a discount on their first Uber ride, making their initial experience cost-effective.
Why it works

Typically, there's two types of referral programme structures. Single-sided referral programmes just reward the brand advocate. A double or dual-sided referral programme offers rewards to both brand advocates and the new customer they've referred.



Uber has taken this model and improvised it in a way that suits their business model perfectly. Their twist encourages both customers and employees to refer new users.



What's more, Uber uses a dual-sided referral programme which is the type we always recommend. Rewarding new users with a gift gives a positive first impression. This puts Uber in a better position to create a positive cycle, encouraging new users to become regulars.
---
Nike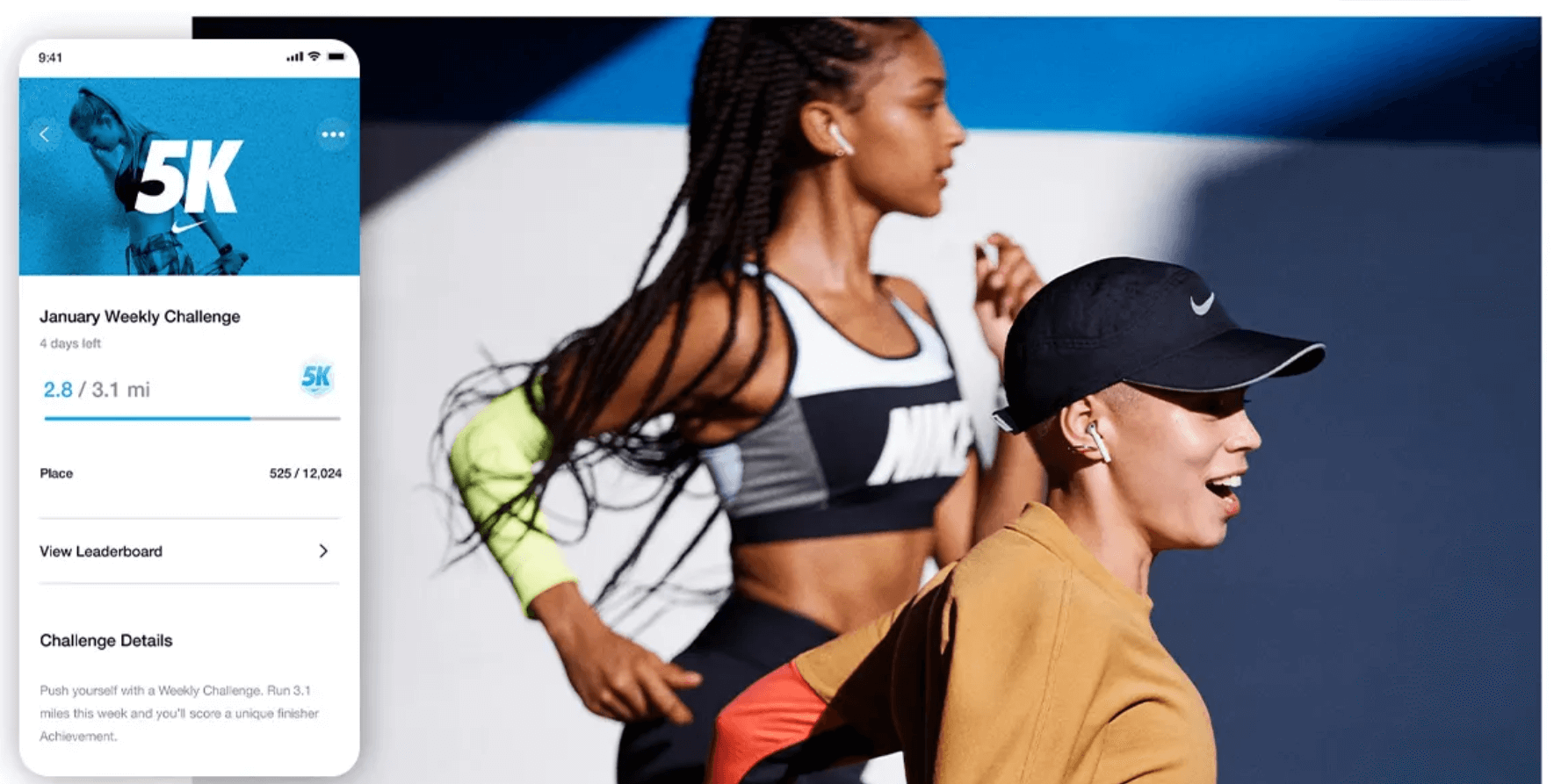 The NikePlus loyalty programme is a gamified experience that members won't soon forget. Benefits include first and exclusive access to products and apps like Nike Training Club and Nike Run Club.
Programme: NikePlus

Programme Type: Gamification

Key features

NikePlus allows members to add their interests for personalised online shopping experiences.

Members also gain early access to limited-edition products, creating a sense of exclusivity and anticipation for new releases.

Members receive a special gift on their birthdays, adding a personal touch to the programme, and enhancing the personalised shopping experience.

Nike provides exclusive content and experiences to members, these include workouts, workshops, events and training tips.
Why it works

Nike's approach to rewarding customer loyalty also goes way beyond rewards. Delivering personalised benefits such as early access is what makes NikePlus work so effectively.



In addition, gamified elements secure high rates of engagement. Competitions and acknowledgement of positive behaviours like attending workouts is a fantastic strategy. Firstly, it appeals to our natural inclination to compete. Secondly, it encourages a lifestyle that Nike products or designed for.

Add leaderboards, competitions and encourage behaviours that drive a demand and need for your products. Nike demonstrates the experiences a customer has with your brand is just as important as the rewards you offer. That can make all the difference for a successful loyalty programme.
---
Cultivate customer loyalty like a pro

Rewarding customer loyalty is not a one-size-fits-all approach. Big brands demonstrate that loyalty programmes take many forms. The key is to understand your customer base. What motivates them to stay loyal to your brand?

Knowing this informs your loyalty strategies, not only to increase customer retention but also foster a community of advocates. In the end, it's creating a win-win situation where customers feel valued and appreciated. Bands benefit from increased consumer spending, stronger brand loyalty, and organic growth through word-of-mouth referrals.

Whether you're a global corporation or a local business, take inspiration from these big brands and start rewarding customer loyalty today. Remember, it's not just about rewarding customers. Build an unforgettable experience, lasting relationships and nurture loyal brand advocates that champion your brand for years on end.