In this blog, we will explore 21 innovative referral programme ideas tailored for B2C brands. These ideas show how these programmes can harness the power of word-of-mouth marketing in the digital age.
---

Contents:


Referral marketing, also known as word-of-mouth marketing, is a powerful force in commerce. Businesses reward customers for recommending products or services to friends, family, and colleagues.
The Statistics Speak Volumes:
87% of consumers trust advice from friends and family the most when learning about brands.

Referral leads convert 30% more often than leads from other channels.

Most marketers (64%) think word-of-mouth marketing is the best kind of marketing.

These statistics emphasise the huge influence referrals have on consumers' purchasing decisions. Why should B2C brands update their referral programmes in a competitive market?
Why B2C Brands Need Innovative Referral Programmes

Innovative referral programmes harness the power of word-of-mouth marketing. They also adapt to the changing dynamics of consumer behaviour and technology. Innovative approaches enhance the already exciting benefits of referral marketing.
Here's why B2C brands must embrace innovation in their referral initiatives:
Programme Digital Transformation: E-commerce and social media have changed consumer-brand interactions. Innovative referral programmes leverage digital platforms and technologies to reach a wider audience.



Increased Trust: Modern consumers are more discerning than ever. Innovative referral programmes foster trust by providing authentic recommendations from real customers.



Data-Driven Insights: Innovations in data analytics allow brands to gain valuable insights into customer behaviour. Referral programmes can be fine-tuned based on data, ensuring better results.



Competitive Edge: In a crowded marketplace, innovation sets brands apart. Creative referral programmes attract new customers and keep existing ones engaged.



Programme Cost-Efficiency: Compared to traditional advertising, referral marketing is cost-effective. Innovations in this field allow brands to maximise their ROI.
Let's dive in and discover how your brand can unlock these exciting opportunities.



---

Classic Referral Programme Concepts
These classic concepts continue to effectively drive customer engagement and brand growth.


1) Customer Referral Discounts
The Basics: This involves creating a viral loop where existing customers refer friends and family to your brand. In return, they receive discounts, coupons, or cash rewards.
Implementation Tips: Give customers compelling incentives to refer others. Simplify the referral process with user-friendly referral links or codes.
Example: Uber
Uber's referral programme is a game-changer for the ride-sharing industry. Current users can refer friends and family. Referrers and referred friends received discounts on their next rides after signing up and taking their first ride.


---

2) Loyalty Points and Rewards
Building Customer Loyalty: Linking loyalty and referral programmes boosts brand growth. Offer loyalty points, badges, or exclusive perks to customers who refer new business.



Data-Driven Personalisation: Use customer data to personalise loyalty rewards. Optimise the customer experience by customising offers to individual preferences and buying habits.
Example: Starbucks Rewards
Starbucks' loyalty programme rewards customers with stars for every purchase. They also introduced a referral component to this programme. If a Starbucks Rewards member refers a friend who signs up and makes their first Starbucks app purchase, both parties receive bonus stars. They can redeem these stars for free drinks, food, or other rewards.


---



3) Social

Media

Sha

ring
Amplifying Your Reach: Social media platforms are a goldmine for referral marketing. Allow customers to easily share positive reviews and product recommendations on social media.



Encourage UGC: Reward customers who share user-generated content like photos and reviews on social media. Customers become brand ambassadors when rewarded for these actions.



Track Performance: Measure social media referral effectiveness with tracking tools. Determine which platforms generate the most referrals and adjust your strategy.
Example: AIrbnb
Existing Airbnb users can refer friends to the platform. The referrer and friend receive travel credits when they book their first stay. Airbnb customers become brand ambassadors by posting about their stays and sharing referral links. This encourages referrals and user-generated content.


---



Gamified Referral Programme
These referral programme ideas exploit human psychology by appealing to our competitive nature and desire for rewards. They make the referral process fun and interactive, increasing customer participation.


4) Referral Contests with Prizes
Competitive Spirit: Tap into the competitive nature of your customers by organising referral contests. Top referrers can win exclusive products, gift cards, or a vacation.



Leaderboards: Display real-time participant progress with leaderboards. This promotes healthy competition and motivates referrers to refer more friends.



Limited-Time Contests: Create urgency with limited-time contests. Time-bound challenges prompt action and referrals.
Example: Dropbox
Dropbox uses contests successfully in its referral programme. In the early days, they ran a referral contest called the "Dropbox Space Race." University students competed to refer the most Dropbox friends, with the winning university getting extra storage allocation. This contest boosted referrals and brand awareness.
---



5) Spin the Wheel Referral Rewards
Surprise Element: Offer rewards to referrers with a virtual spin-the-wheel game. Prizes for each spin include discounts, freebies, and event access.



Interactive User Experience: The spinning wheel makes the referral process fun and memorable for customers.



Frequency Rewards: Let customers spin the wheel more times as they refer friends to win bigger prizes.


Example: Sand Cloud
The bathing and lifestyle company runs a successful loyalty programme with a spin-the-wheel feature. Customers can spin the virtual wheel and win discounts of up to 20%. To encourage sales, most stores fix the spinner so that the customer always wins a discount on the item.
---



6) Interactive Quizzes for Referrals
Knowledge and Fun: Create interactive quizzes related to your products or industry. These quizzes can earn customers referral rewards when shared with friends.



Learning: Quizzes engage and teach participants about your brand, products, and services. It's a subtle way to convey your value proposition.



Customised Recommendations: Enhance their shopping experience by using quiz data to personalise product recommendations.
Example: Birchbox
Beauty subscription box Customers receive personalised beauty product recommendations after a quiz. They are then encouraged to invite friends to take the quiz. Referrers get rewards when friends take the quiz and buy the recommended products.


---
Influencer-Driven Referral Strategies
These referral strategies leverage influencers who already have your target audience's trust and attention.


7) Influencer Ambassador Programmes
Brand Advocates: Work with influencers who share your brand's values and products. These influencers become brand ambassadors for ongoing referrals and one-time promotions.



Regular Promotion: Ambassadors can run an ongoing promotion of your referral programme, emphasising product benefits and referral rewards.



Exclusive Content: Encourage ambassadors to create brand and referral programme-themed content. This could include tutorials, reviews, or behind-the-scenes footage to engage viewers.
Example: Sephora
Sephora works with brand-loyal beauty influencers and makeup artists. These Sephora Beauty Insider Ambassadors promote Sephora's loyalty and referral programme to their followers. They promote Sephora products, beauty tips, and Beauty Insider benefits by posting content and inviting referrals.
---

8) Celebrity Partnerships
Broad Appeal: Celebrity partnerships boost brand awareness instantly. Celebrities often have a broad and diverse fan base.



Trust and Authenticity: Make sure the partnership matches the celebrity's values. Their followers trust them when they are authentic.



High-Impact Campaigns: Offer celebrities' followers unique incentives or experiences in high-impact referral campaigns.
Example: Pepsi and Beyoncé
Pepsi launched a celebrity-driven campaign with Beyoncé. Beyoncé promoted Pepsi and encouraged her massive fan base to refer others in this campaign. Fans could win backstage passes to Beyoncé concerts by buying Pepsi and referring friends. This partnership took advantage of Beyoncé's wide appeal and trust.
---

9) Micro-Influencer Collaborations
Niche influence: Develop relationships with industry micro-influencers. They have highly engaged and loyal audiences in specific niches despite having a smaller following than celebrities.



Personalised Engagement: Micro-influencers can make referral programme promotions more personal and relatable. Their recommendations feel genuine and trustworthy.



Cost-effectiveness: Micro-influencers are cheaper than celebrities and larger influencers. This makes it ideal for smaller brands.
Example: Daniel Wellington and Micro-Influencers
The watch brand sends free watches to fashion and travel micro-influencers. The micro-influencers then post about the watches and give their followers discount codes. Daniel Wellington has grown its brand and encouraged community referrals by using micro-influencers' authenticity and niche influence.


---



Subscription Box Referral Programmes
If your B2C brand offers subscription box services, here are some great ideas to consider:


10) Refer-a-Friend Subscription Discounts
Double-sided Rewards: Offer discounts on subscription renewals to current subscribers who refer friends. For their first month, their friends can also get a discount.



Clear Communication: Make sure existing subscribers know about the referral benefits, including savings and sharing the subscription.



Automation: Use an automated referral tracking system to apply discounts correctly and quickly after referrals.
Example: Birchbox
Birchbox has a "Refer-a-Friend" programme. Current subscribers can refer friends and get discounts on shop products. Referred friends get a discount on their first box. This programme rewards referrers and referees, boosting customer acquisition and retention.
---



11) Exclusive Add-Ons for Referrals
Premium Rewards: Give referrers exclusive subscription box upgrades. These may include limited-edition, high-value, or customised products.



Improved Personalisation: Use referral data to select exclusive add-ons based on referrer and friend interests.



Complimentary Themes: Match exclusive add-ons with subscription box themes to improve customer satisfaction.
Example: FabFitFun
FabFitFun, a seasonal beauty, fashion, and wellness subscription box, rewards referrals with exclusive add-ons. Referrers receive credits to add products to their next box. Extra options improve personalisation and customer satisfaction, encouraging referrals.
---

12) Subscription Swaps with Friends
Friendship Experience: Let subscribers gift friends their subscription boxes for a month. This introduces new customers to your brand and promotes community.



Simplified Gifting: Make it easy for subscribers to start the swap, providing a smooth experience for both parties.



Social Media Feedback: Encourage subscribers to review or post about the swapped subscription box to promote your brand.
Example: BarkBox
BarkBox subscribers can gift a box to a friend's dog for a month. This programme encourages dog lovers to share and introduces BarkBox to new customers. The referrer and recipient enjoy the experience and share their joy with furry friends on social media, promoting the brand.
---

Tech-Enhanced Referral Initiatives
These tech-forward ideas can make your referral programme more appealing to modern consumers.


13) AI-Personalised Referral Recommendations
Smart Recommendations: Analyse customer data and behaviour with AI. AI can then suggest personalised product recommendations for customers to refer to their friends.



Tailored Outreach: Build referral messages around the recipient's preferences to make them feel relevant.



Automated Follow-Ups: AI-powered systems can send automated follow-up messages reminding customers about the referral programme and rewards.
Example: Netflix
Netflix analyses viewing habits and preferences with AI. The streaming service makes personalised movie and TV show recommendations based on this data. Netflix's referral programme could use AI to let users recommend specific titles to friends, increasing referral success.
---

14) Chatbot-Managed Referral Campaigns
Conversational Engagement: Use chatbots on your website or messaging platforms to have real-time customer conversations. Chatbots can answer questions and walk customers through the referral programme.


Data Collection: During interactions, chatbots can collect data to help you understand customer referral questions and concerns.
Example: H&M
Global fashion brand H&M has launched a Facebook Messenger chatbot. The chatbot offers fashion advice, product searches, and order processing. H&M could add referral programme information to this chatbot, allowing users to refer friends and find answers in real time.
---



15) Augmented Reality (AR) Referral Experiences
Immersive Engagement: Give customers virtual interactions with your products or brand using AR. Encourage them to tell friends about these immersive experiences.



Product Visualisation: AR lets customers see products in their own space before buying. Allow customers to share AR visualisations with friends to boost referrals.



Interactive Promotions: Create brand-related AR games or challenges. Give rewards for completing challenges and sharing AR experiences.
Example: IKEA Place
"IKEA Place" is an augmented reality app that lets users visualise IKEA furniture in their homes. These AR technologies could be used in referral programmes. Users could refer friends and let them virtually place and view recommended products in their homes, improving the referral experience and engagement.
---

Community-Centric Referral Programmes
Growing a brand community can boost referrals. Here are three community-centric referral programme ideas:


16) User-Generated Content Sharing
Engage Customers: Use hashtags on social media to get customers to share their product or service experiences on social media.



Rewards: Customers can be rewarded for sharing user-generated content. This could include brand channel features, discounts, or exclusive merchandise.



Peer Recommendations: User-generated content from customers builds trust and referrals.
Example: GoPro
Action camera brand GoPro encourages users to post #GoPro content on social media. They actively promote top user-generated content on their website and social media. Customers who have their content featured feel recognised and part of the GoPro community, which motivates them to refer friends.
---

17) Exclusive VIP Clubs
Tiered Loyalty Programmes: Offer exclusive benefits to customers who refer friends or make repeat purchases.



VIP Access: Give VIPs early access to product launches, events, and sales. It rewards loyal customers and encourages them to refer friends to the exclusive club.



Rewards: When someone joins the VIP club through a referral, reward the referrer and the friend.
Example: Sephora Beauty Insider
The Sephora Beauty Insider loyalty programme is tier-based. Customers can unlock VIP tiers with exclusive benefits by making purchases and referring friends. The benefits include early sales, exclusive product launches, and special events.
---

18) Local Events and Meetups
Community Building: Host local brand-related events, workshops, or meetups. Encourage customers to attend and bring friends.



Referral Incentives: Reward customers who bring friends to these events. Free tickets, exclusive access, or special merchandise are great rewards.



Shared Experiences: Customers who attend events with friends strengthen their brand loyalty and can refer more friends once they share their positive experiences.
Example: Lululemon
Yoga and athletic apparel brand Lululemon hosts local events and classes in stores and outdoors. They encourage customers to attend events with friends. Creating opportunities for customers to share experiences with friends helps Lululemon build community and encourage referrals.


---

Ethical and Sustainable Referral Approaches
These approaches demonstrate your brand's social responsibility and business ethics.



19) Eco-Friendly Referral Rewards
Green Incentives: Reward referrers with reusable shopping bags, bamboo utensil sets, or organic cotton tote bags. These incentives promote sustainability and environmental awareness.



Tree planting: Work with reforestation groups. Promise to plant a tree in an environmentally important area for each referral. This rewards referrers and helps the environment.



Carbon Offsets: Calculate your referral programme's rewards' carbon footprint and invest in renewable energy or greenhouse gas reduction projects.
Example: Patagonia
Patagonia encourages customers to join their "Worn Wear" programme. Customers can trade used Patagonia clothing for store credit to buy new or used products. This programme promotes sustainability by extending the life of clothing and reducing waste.
---

20) Charitable Donations for Referrals
Giving Back: Instead of rewards, let referrers donate to a charity. Let them choose from partner charities and NGOs that share your brand's values.



Matching Donations: Increase impact by matching referrer donations. This strategy motivates customers to join your referral programme while improving the world.



Transparency: Explain to customers how their referrals benefit charities and the collective impact of their referrals.
Example: TOMS One for One
TOMS is known for its "One for One" model. TOMS gives a pair of shoes or eyeglasses for every pair sold. They could add this model to their referral programme, allowing customers to refer friends and receive shoe or eyeglass donations.
---

21) Fair-Trade Partner Referrals
Ethical Partnerships: Work with fair-trade brands that promote sustainability and ethical labour. Invite customers to refer friends to buy fair-trade products from your partners.



Rewards: Offer referrers discounts on fair-trade products from your partners. It promotes ethics and introduces customers to sustainable and socially responsible brands.



Storytelling: Share the stories behind your fair-trade partners and the positive impact their products have on communities and the environment. This narrative can inspire more referrals.
Example: Numi Organic Tea
Numi Organic Tea, a brand known for its commitment to fair trade and organic practices, could partner with other fair-trade brands in the food and beverage industry. Customers who refer friends to purchase products from these fair-trade partners could receive discounts or exclusive bundles of fair-trade products, promoting ethical consumption.
---

Implementing Your Referral Programme

Successfully launching your referral programme involves several key steps. Here's how to effectively implement your referral programme:
Clarify Goals: Set goals for your referral programme. Is it to increase brand awareness, acquire new customers, boost sales, or enhance customer loyalty? Set specific, measurable objectives.



Determine Key Metrics: Choose KPIs to evaluate the programme. Conversion rates, referrals, and customer lifetime value are common KPIs.



Referral Software: Use reliable referral programme software to automate, track, and manage referrals.



Analytics and Tracking: Use analytics tools to monitor the performance of your referral programme. Google Analytics and custom tracking scripts can help you gather valuable data on referral activities and conversions.


---



Conclusion
Embrace the power of referral marketing innovation to drive your B2C brand forward. Start your referral programme today and unlock a world of growth, engagement, and customer loyalty. Don't miss out on this dynamic strategy for success.
---
Try our calculator to help project the ROI of your customer referral programme.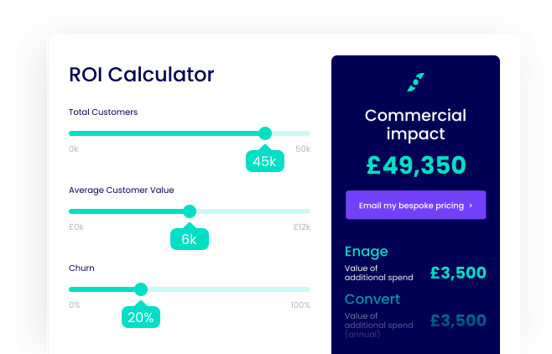 ROI Calculator

See How A Referral & Customer Loyalty Programme Can Impact Your Business.

Enter the size of your audience, average customer value and programme type to see how much you can gain.