Here, we've compiled a list of customer loyalty trends for you to keep an eye on in 2023. Read on to see the latest innovations and approaches brands can use to help with engaging customers and increasing retention.


---

Contents:
1) Instant everything - always on rewards
2) Brand partnerships with value-added customer rewards
3) Personalised customer experience
7) Sustainability and green loyalty
10) Offering company loyalists a voice in decision-making
---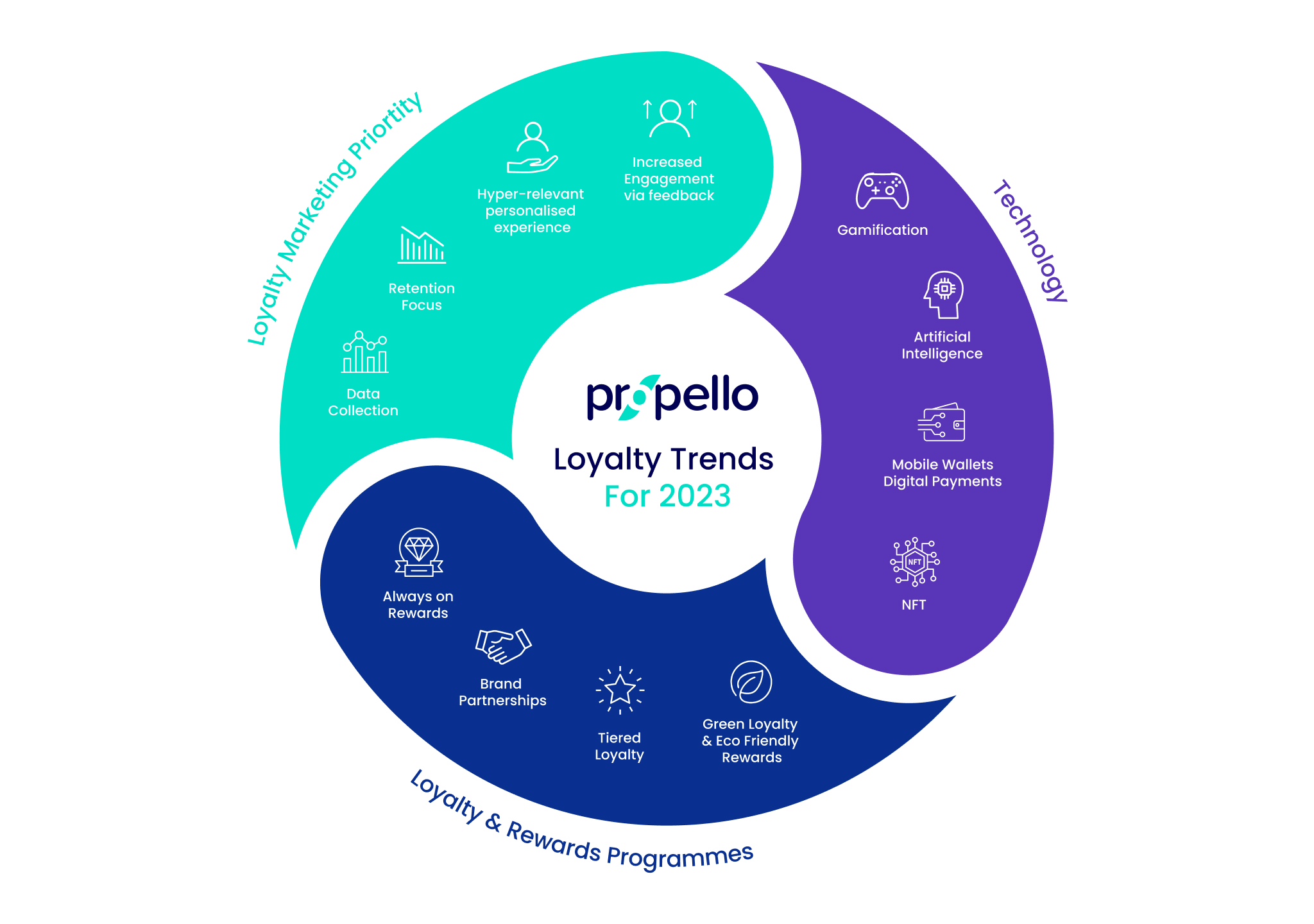 How to Stay Ahead in the Customer Loyalty Game
Each year brings fresh developments in the sphere of customer loyalty as a result of shifts in consumer behaviour, emerging technology, and external factors such as the economic climate, which is forcing businesses to rethink how best to secure loyal customers due to reduced spending power.

Traditionally, loyalty programmes rewarded customers for making purchases or simply being customers for a certain period. However, in recent years, other customer behaviours have begun to gain prominence. Members can achieve rewards for social media engagement, making suggestions, and simply logging in.

Perhaps it's time to abandon antiquated loyalty models like basic "earn and burn."? The shift away from mass market loyalty programmes towards those that provide a more personalised and distinctive experience for each individual consumer continues to widen yearly.

The old system of "the more you spend, the more rewards you get" has lost its lustre. The modern customer does not view loyalty in this sense. They believe that a consumer's loyalty must be earned through a personal connection with a company's goods or services.

Personalised engagement is the key to success in the future. Brands that want to retain their customers must adapt to their ever-changing wants and demands.

In today's highly-saturated, competitive market, loyalty can be a fickle thing.

To keep clients interested, you must constantly improve your loyalty game. Give your customers a reason to interact with your brand at every stage of the customer journey, make it simple and beneficial, and you'll foster brand loyalty that will last for years.

Stick to delivering relevance and value; that's how you drive customer loyalty.


---

Customer Loyalty Trends That Will Define Success in 2023


Customers have come to expect everything to be ready for them in a flash. You can blame that on modern advancements in technology as expectations shift to having products at our fingertips or delivered right to our doorsteps.

People will continue to insist on getting their hands on everything immediately. You can keep customers coming back by giving loyalty members instant, ongoing rewards that have nothing to do with how much they spend.

These expectations lead customers to believe that reward points should be accumulated instantly and redeemed as soon as the customer is eligible, irrespective of the sales channel or device - mobile apps / in store / website.

Customers will also demand access to live data and customer service chatbots that can answer their questions promptly. Immediate discounts or sign-up bonuses are excellent examples of how you can keep customers hooked.


For an analysis on Always-on-Rewards, download our Loyalty & Rewards Programme Guide


---

2) Brand partnerships with value-added customer rewards

One growing customer loyalty trend for 2023 is for businesses to form alliances or partnerships with reputable and like-minded brand partners. It's a cost effective approach to growing a brand through increased audience reach and access to new markets.

By pooling their respective strengths, partners in an alliance can develop products and services that not only meet but also surpass the needs and expectations of their customers. It allows you to broaden the range of your offerings and provide more value to your customers through relevant promotions and discounts offered by your brand partners.

You can increase brand loyalty, customer retention, and customer engagement by partnering with brands that can offer your audience extra value beyond your core products and services.


"It's an exciting time for enterprise, mid market and SME brands to enter brand-to-brand partnerships, especially as technology is making the channel more accessible and more measurable"
Nic Yates, Head of Global Affiliate Partnerships at Silverbean (Global Affiliate & Partner Marketing Agency)

To help you get started with partnership marketing or revamp your existing partner programmes, we have produced a playbook to guide you through best practice when launching a partnership programme.


---

3) Personalised customer experience
Customers are placing a higher value on their shopping experiences. This is not a new trend and shows no signs of slowing down.

Customers nowadays are seeking out businesses that can cater to their specific requirements and provide a unique and secure service experience.
"71% of consumers expect companies to deliver personalised interactions, and 76% get frustrated when this doesn't happen"

The first step in living up to these expectations is recognising that each consumer is unique. Due to the time and effort required to acquire such knowledge, the purchasing habits of repeat customers are valuable to marketers.

That's why forward-thinking marketers prioritise providing constant, individualised service to their patrons via digital channels. Businesses can create a secure and welcoming environment for their clients by understanding their wants and requirements. It makes it easy for customers to gain satisfaction from each interaction with a brand, hence building loyalty.

The future of personalisation lies in the use of technology to get a deeper understanding of consumers and provide them with relevant experiences and services that are tailored to their specific requirements. It also happens to be an excellent approach for fostering loyalty since the customer's experience with your brand is a defining factor for repeat business.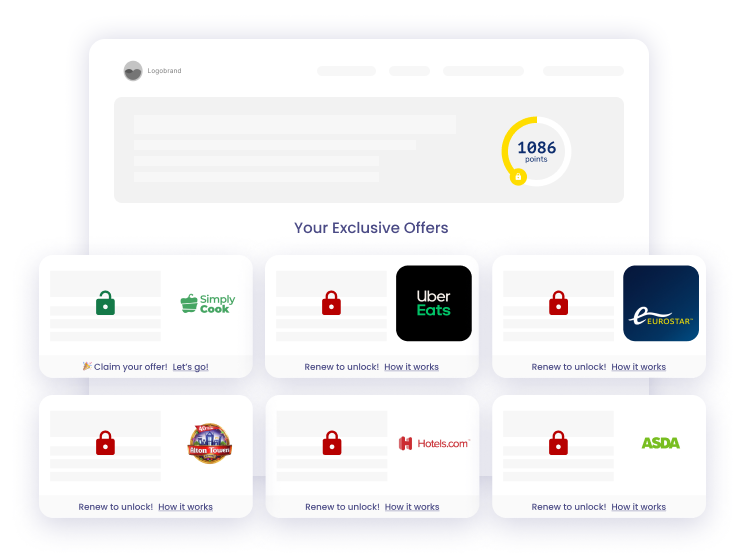 ---
4) Tiered Loyalty Programmes
Customers are more likely to make purchases at your business when you set up a tiered loyalty programme because it encourages a competitive spirit and gives them a reason to aspire for growth on the loyalty ladder.

If you want to implement this tactic, make sure that the rewards and experiences offered at each tier of your loyalty programme are truly special and stand out from the "standard" benefits that customers expect. The result will be happier clients who are more connected and loyal to your brand.

With the incentive to level up and access better rewards, your customers will prioritise your brand over others. If done correctly, it will help you stand out from the crowd and become a consumer favourite.

Tiered loyalty programmes also help businesses quickly identify and categorise their most important consumers. If you segment your members into different tiers, you can use their purchase histories to provide them with personalised promotions and benefits.

When members achieve a high rank, they get recognition for their efforts. Sending a personal message as they progress between tiers is also important to keep them excited.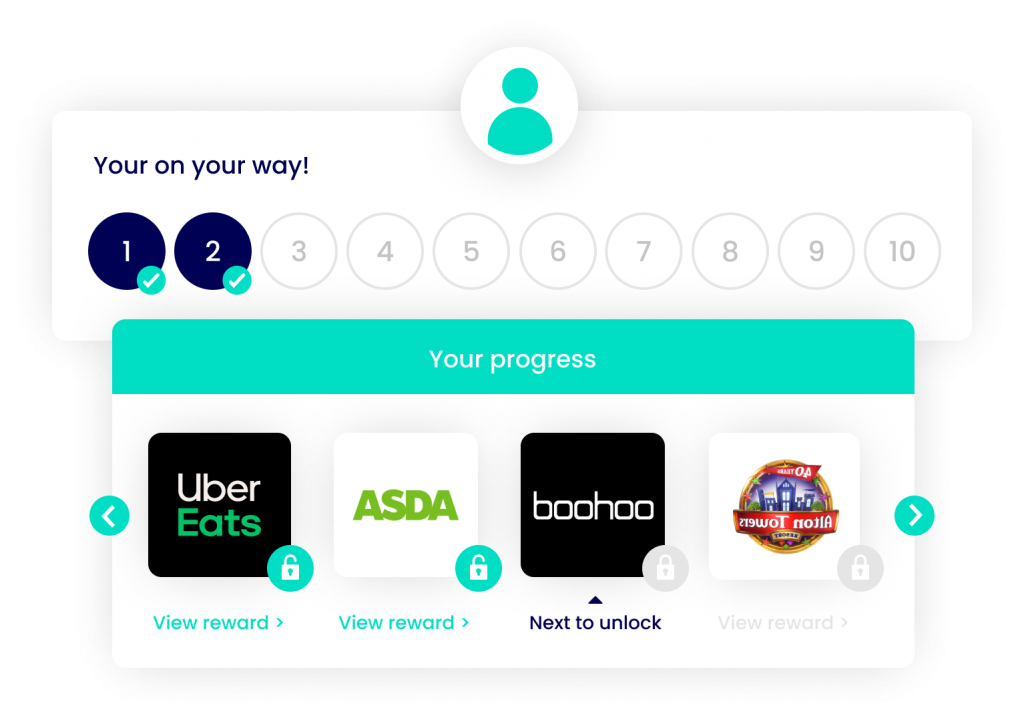 ---
5) Gamification and unlockable rewards
Gamification is making waves in customer strategy and will continue to do so. Brands are carefully analysing potential approaches that create strong connections with customers as they seek to interact with them in innovative and relevant ways. Leveraging game theory to reach the target audience is one approach that is getting plenty of attention.

Getting a consumer to join a loyalty programme doesn't necessarily result in sustained involvement, which is the ultimate purpose of such programmes. In today's competitive market, a simple rewards programme isn't enough to inspire true brand loyalty.

This is where gamification can help.
"Gamification has been shown to increase trial usage by 54% and clicks to buy by 15% when used in customer engagement strategies"
Gamification of loyalty programmes, together with offering rewards for actions that are meaningful to customers, is an effective way to increase brand engagement. Customers are more likely to learn and explore when they are rewarded for doing so, and gamification can provide just that.

Customers will appreciate the effort and dedication when you use your loyalty programme to provide instant reward games like scratch to win, peel to reveal, or a reward calendar.

Customers develop a deeper and more profound emotional connection to your brand through a succession of gamified, relevant offerings and experiences that provide numerous ways to obtain different rewards.
---
5) Increasing use of AI
It's interesting to note that customer experience is where most marketers and companies intend to use AI. Increasing customer loyalty and involvement can be accomplished by focusing on improving the customer experience (CX).
"A Statista report on the factors likely to reshape and improve CX revealed that 45% of brands said that they thought artificial intelligence (AI) solutions would reshape their CX in the next five years.

AI is able to provide the technology and advanced predictive insights that are required to deliver an exceptional, hyperpersonalised customer experience"


It helps you develop a comprehensive marketing plan and personalised content for each stage of the buyer's journey. This can help you offer more value to customers and earn their loyalty.

In addition to powering chatbots, AI can keep track of all of your site's users' activities and establish behavioural patterns. Some customers may scan your services and products online and provide feedback and reviews. Others may perhaps go on to view subsequent pages or products and respond to them in different ways.

Deep learning algorithms track and log all of this activity. With this data, the deep learning models can evaluate the client persona based on their habits and preferences. In the long run, this helps you make crucial decisions for enhancing consumer loyalty.

It will also allow you to establish value-based customer loyalty programmes for different segments of your target audience. This strategy is beneficial as it helps you design tailored loyalty or incentive programmes that engage with each group.

Incentives and prizes can be dynamically served at tier, cohort, or individual user levels using machine learning and connected data sources to provide a relevant and personalised customer experience.

---
7) NFTs
Trading in NFTs reached $17.6 billion in 2021, with sellers netting over $5.4 billion in earnings. Those numbers show how much demand for these digital resources has grown since 2020. Customer loyalty may look very different in 2023 thanks to NFTs.
"The majority of consumers (37.4%) say that utility NFTs can influence brand engagement and encourage them to be more loyal"
With their unique and scarce nature, NFTs can be used by businesses to encourage customer participation and loyalty by creating closed-group communities of owners. In addition, you can use NFTs to interact with loyal customers in a myriad of ways.

By associating them with NFTs that provide unique rewards, you can increase the value of new product lines. Launching a product with its own NFT can, for instance, grant the owner access to exclusive events, price discounts, or VIP rewards.

You can also design NFTs for your most devoted customers, rewarding them with benefits like loyalty bonuses, premium memberships, and early access to product releases.

Several big-name businesses have begun adopting such strategies. In 2019, NFTs were added to Prada's Timecapsule line. Each month, Timecapsule releases a limited quantity of a new ready-to-wear item that can be purchased exclusively on their website for a single day. In June 2022, any item purchased from the collection came bundled with a free NFT that granted access to premium features and benefits.

This demonstrates how you can use NFTs to encourage customers to stick around longer.


---

8) Mobile wallets
People are increasingly relying on mobile payment options for their day-to-day purchases. It's no wonder that digital wallets are on the upswing given the increasing prominence of smartphone usage.
"The future certainly looks bright for the use of digital wallets. There were 2.6 billion digital wallet users globally in 2020, and this figure is set to reach 4.4 billion in 2025.

Companies are starting to leverage digital wallets to grow their customer base, customer loyalty and enter new market segments"
Financial IT


As time goes on, using a mobile wallet to make purchases and transfer money will become the standard. A mobile wallet is an electronic money account that can be loaded with funds and linked to other applications, such as rewards or shopping apps.

They are used to facilitate fast, risk-free financial transactions on the go. There's little doubt that a company's engagement and customer retention will increase dramatically if it caters to what its customers expect from their mobile wallets and loyalty programmes.

All customers want to make purchases without worrying about safety issues. Mobile wallets can offer that security along with easy accessibility.

The prospect of having their personal information stolen is a situation no one wants to experience. With digital wallets that don't save sensitive financial data, customers can enjoy that much-needed calm during transactions and will surely continue to patronise your brand.


---

9) Sustainability and green loyalty
Some businesses are still getting used to the idea that prioritising sustainable practices drives loyalty. You can gain the trust of your customers and build long-term connections by embodying sustainability as a brand.

More shoppers are putting the health of the planet first and expect the brands they patronise to do the same.


"Over 71% of British citizens agree that loyalty programmes should encourage or directly promote environmentally friendly behaviour among customers"
Mando-Connect + YouGov 2022


The Costa Coffee Club is the perfect example of such a programme. It rewards members for embracing sustainability, by making it easier for those using reusable cups to get free coffee.

Efforts to preserve the environment matter. Loyalty programmes have done exceptionally well by establishing prizes where members can donate to environmental charities and sharing vital information about environmental safety.

Simply saying your brand supports sustainable practices isn't enough. Back up your words with actions.

Show your customers that you share their dedication by supporting and encouraging them to engage in sustainable activities. It helps you to create meaningful emotional connections and significantly improve the customer's experience with your brand. Few things keep customers loyal to a brand like a shared purpose.



---

10) Offering company loyalists a voice in decision-making
The best way to keep loyal customers is to make them feel like they have a real say in the business. Having a voice in shaping corporate policy and decision-making is a great morale booster.

The year 2023 will witness a rise in the importance placed on the opinions of a company's most devoted clients. Businesses will look to obtain and act on feedback from clients through mass surveys or direct requests. Having this access and opportunity to shape company policies can only further endear customers to a brand.