Customer loyalty is the foundation of any successful business. This is even more true for businesses in the financial sector. Creative strategies like loyalty programmes make a difference for businesses looking to thrive in the financial industry.
In this article, we'll cover the following:
---

Contents:


---
---
Technology continues to redefine the world of business, influencing financial service businesses and the products that they provide. Innovative solutions like mobile and digital banking are setting the standard for convenient, personalised, fast, and user-friendly customer service.

Customers expect nothing short of this tailored approach that targets their pain points and enhances the overall user experience. The modern marketplace offers customers more freedom of choice as financial service providers struggle to meet these ever-changing consumer demands.

A financial services loyalty programme is exactly what you need to get an edge over the competition.


About 90% of businesses reward devoted customers via a loyalty programme. (zippia)

Loyalty programmes improve the value that your customers get from your services. It's an effective technique for increasing customer retention and reducing customer churn. It also drives business growth and enhances the reputation of your business.
---


What is a Financial Service Loyalty programme?

Financial service loyalty programmes help businesses reward and encourage repeat business from their customers. It is a form of incentive marketing that builds trust and loyalty between a business and its customers. Customers receive extra benefits and value beyond their original purchase via incentives such as discounts or gift cards.

Credit card rewards programmes, airline mile programmes, and banking and investment service loyalty programmes are all excellent examples. Customers that participate in these programmes enjoy perks like free flights, discounted prices, giveaways, and cash-back offers on their purchases.

---


Why Do Businesses in the Financial Service Industry Need Loyalty Programmes?

Rewarding repeat customers encourages them to stick with your business. It also helps you attract and convert leads and generates more user engagement with your products and services.

Offering incentives also creates opportunities for positive interaction with customers, creating a memorable experience through personalised service. A study discovered that:

78% of consumers would remain with their current bank if it provided personalised support.

This underlines the need to provide personalised services to customers to deliver more value and boost customer retention.

Here are some specific reasons why financial services companies need loyalty programmes:
Customer retention
Retaining customers is an important part of achieving sustained business growth. Loyalty programmes support this goal by rewarding consumers for using the company's services on an ongoing basis.

Customers are more willing to remain loyal to a business if they believe they are valued and adequately rewarded.

Over 84% of consumers will stay with brands offering a loyalty programme.


---
Increased engagement
Customers are more likely to engage with your company's products and services when they are promoted through a loyalty programme. For example, credit or debit card usage will improve if customers know that they will earn rewards for each purchase.
---
Attracting new customers
An effective customer loyalty programme for a financial services provider will draw the attention of new customers. Improve your marketing reach by rewarding customers for sharing brand content on social media or buying a product.
---
Competitive advantage
Loyalty programmes help you create unique offers and deals. For instance, a loyalty programme that supports customers during tough economic periods (i.e., the pandemic and cost of living crises) can bring in more business.

Providing help when they need it makes customers more likely to stick with your business. Research has revealed that:

63% of customers will not change their bank if it offers such support, and 78% will definitely remain loyal to the bank.

The same survey also discovered that just 44% of banks provide this type of support, despite the fact that it has a major influence on customer satisfaction and loyalty. Delivering a loyalty programme that eases the burden and uncertainty associated with economic downturns can be your one-way ticket to securing customer loyalty.
---
Data insights
You can leverage customer data and insights gained through loyalty programmes to enhance your products and services, create personalised marketing campaigns, and discover new opportunities for revenue growth.

About 60% of consumers will provide their personal information to their bank in exchange for personalised services and rewards.


75% of consumers prefer to buy from brands that recognise their name, offer relevant product recommendations using their purchase history, and personalise the customer experience. The good news is that you can do all that with a financial services loyalty programme.
---
Different Types of Loyalty Programmes Used by Financial Services

There are several loyalty programmes available to financial services businesses looking to attract new customers, retain existing ones, and improve user engagement with their products and services. Here are some of the common approaches that financial services businesses use to create their loyalty programmes:
Points-based programmes
In this approach, customers earn points after each purchase. Once they've earned enough points, they can redeem them for discounts, freebies, or other types of rewards.
---

Tier-based programmes
This system involves grouping customers into tiers or levels with unique benefits. The customer's engagement and purchase history will determine which tier they fall into. High-tier customers get better offers, such as priority customer support, exclusive event access, or personalised offers.
---

Cashback programmes
In these programmes, repeat customers are rewarded with a percentage of their spending. This could be in cash, deposited into their accounts, or store credit for future purchases.
---

Partner programmes
Brand partnerships involve partnering with other businesses to reward your loyal customers with exclusive partner offers. This often means offering them a partner brand's products and services at a discounted rate after they make repeat purchases.
---
Referral programmes
These programmes leverage the power of word-of-mouth marketing to increase your marketing reach and lead conversion rate. This approach can be a game-changer as over

88% of people trust referrals made by friends and family over other marketing channels.

In referral programmes, customers are rewarded for each lead or referral they bring in. A popular example includes fintech apps that give an existing customer a unique code to invite friends and family to sign up. Customers earn monetary rewards or special deals when leads sign up with the code and meet the minimum engagement or spending limit.
---

Gamification programmes
Gamification is an innovative technique that can supercharge your loyalty programme. Customers complete gamified challenges and tasks (possibly related to financial literacy) to gain access to rewards and climb up the loyalty ladder.

Reports suggest that businesses that use gamification to engage customers enjoy a 22% increase in brand loyalty and a 47% increase in brand engagement.

It's important to note that while each of these approaches has its benefits, there are potential downsides. You must carefully consider the options to choose the one that best meets your customers' needs and supports your business objectives.

Your financial services loyalty programme must be aligned with your overall marketing strategy and offer customers real value. It must be reviewed and revised on a regular basis to ensure that the programme remains relevant and effectively supports your customer retention strategy.
7 Steps that financial service organisations can take to build an effective rewards and loyalty programme


Step 1: Identify the Target Audience
Before anything else you should decide who is the target audience for your loyalty programme.

For example, do you want to reward customers who've been with you for a certain length of time? Or perhaps you want to reward those who've bought multiple financial products in the past.


---


Step 2: Define the Programme Goals
Once the target audience has been decided on you should define the goals of your loyalty programme.

For example, are customer retention strategies or driving sales growth more important? A good rule of thumb is to use the SMART goal system.
---


Step 3: Rewards & Redemption
Reward Structure
Your reward structure must be designed to offer customers meaningful incentives that match their dedication and engagement with your products and services. This could be via partner offers, discounted services, or giveaways.


Redemption options
The ideal loyalty programme should have several redemption options for customers to collect their rewards. Provide choice and flexibility with options such as gift cards or free merchandise.
---


Step 4: Design the Programme Structure
The structure of your loyalty programme is the type you choose to use. We've already listed these above under the different types of loyalty programmes section.

You must first identify your audience, set your goals, and choose the rewards. These will help inform you on the best programme type to use.


Example: Tiered rewards
Offering tiered rewards can improve user engagement with your financial services loyalty programme. Tiers would offer incentives with increasing value as customers increase their engagement with your products.
---


Step 5: Create & Launch a Promotional Plan
After you've picked the programme type, it's time to create a marketing plan.

Promoting the loyalty programme to customers is the ultimate goal of a marketing plan for insurance providers.

This means you'll need to set up email campaigns and social media ads.


---


Step 6: Implement Tracking & Analytics
It's wise to set up a data collection method before you launch the loyalty programme. That way you can keep track of your efforts and the results of your hard work.

Data collection is crucial for a successful loyalty programme. You need to constantly track customer engagement and refine the programme over time. Which leads us to our next point…


---


Step 7: Monitor & Optimise the Programme
Allocate management resources prior to launching the loyalty programme.

You want to be in a position where you can monitor everything from the moment the programme launches.

Adjust the programme when necessary so it keeps meeting your goals and the needs of your customers.

Other Loyalty & Reward Programme Considerations for Financial Services Businesses

In addition to the steps above, when designing and implementing your programme, there are some other important factors to integrate into your plan:
Personalisation
This is another powerful technique for increasing customer satisfaction and engagement with your programme.


Studies have shown that only 2 in 10 members of loyalty programmes are completely satisfied with the brand's approach to personalisation.

Meanwhile, customer satisfaction can increase by as much as 6.4x when personalisation is properly implemented.

Analyse customer preferences and behaviour and use that information to personalise rewards and product recommendations to meet their present and future needs.
---

Accessibility
Did you know that over 75% of people are willing to invest in mobile-friendly loyalty programmes? Customers expect easy access across multiple channels that offers a seamless experience. This accessibility should cut across mobile apps, online banking platforms, and even physical locations for the complete omnichannel experience.
---

Transparency
Your loyalty programme must have clear and concise terms and conditions. Transparency is vital to keeping customers informed on how to earn and redeem rewards. Ensure that you notify them about fees, restrictions, and possible reward expirations.


---

Social responsibility
Consumers demand more from the brands they support and patronise. They expect their preferred brands to take a strong stance on several social issues.

One report has revealed that over 86% of Brits want brands to actively support intervention for the UK's mental health crisis.

Another report found that:

42% of consumers want brands to address the climate emergency, with another 34% focused on poverty and inequality, and 31% on racism.

You can support social responsibility by rewarding customers for eco-friendly behaviour. Another viable option is to partner with social impact organisations that address issues that are important to your customers.
---
Examples of Loyalty and Reward Programmes in Financial Services
GAIN Credit
Always on rewards and loyalty programme with incentives and offers from over 200 relevant partner brands.


Gain Credit's aim is to empower customer's lives through the provision of responsible credit solutions for the underserved.



---


"GAIN Credit has been working with Propello to deliver exceptional value to our customers. With the cost-of-living impacting everyone, we're so pleased that we can offer even more ways for our customers to make real savings."

Alex Woodcraft (Marketing Director) | GAIN Credit
---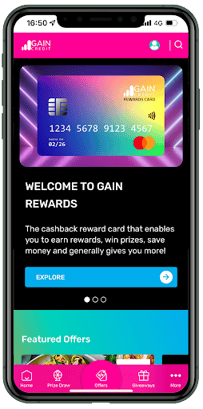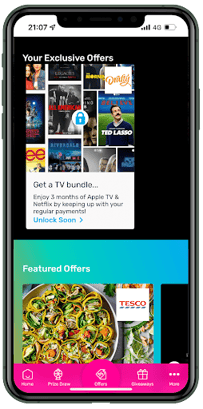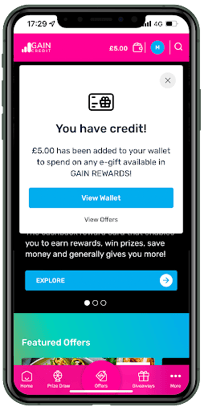 Customers enjoy access to benefits e.g., prize draws and giveaways from over 200 brands partnered with Gain Credit
Rewards offer exclusive discounts on many of the UK's biggest brands' products and services - restaurant, clothing, and travel etc
Launching a new rewards programme that integrates with credit card apps, allowing customers to accrue points to burn on rewards or cash back to pay off credit card
Gamified elements encourage customers to sensibly manage money; desirable actions such as meeting loan payments trigger rewards to unlock
Customers typically save in excess of £200 pa
Club Lloyds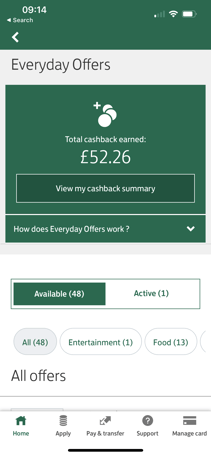 Club Lloyds provide customer fair value through exclusive perks and rewards that their customers simply can't get enough of.

Whether that's exclusive discounts with partnered:
Retail stores
Hotel chains
Airlines & more!
Special premium member perks such as:
Free travel insurance
Lower entry points for investment products
Special mortgage features ranging from offset savings costs & even cash backs

All of these lead to positive outcomes for customers.


Other programme features include:


Tiered rewards programmes, divided in: Classic, Silver Account and Platinum, each with their own rewards & benefits.



The rewards programme provides a seamless experience by linking cash back rewards to payment cards with selected retailers.



Roster of participating retailers include highly regarded brands that offset the cost of living (supermarkets, clothing & breakdown cover)


---
Customer Loyalty & Increased Retention is the Key to Sustained Business Growth

In the modern age, where customers now have several financial service options at their fingertips, customer loyalty is more important than ever.

Create meaningful relationships with your customers by understanding their behaviours, preferences, and needs and offering them a robust loyalty programme that is aligned with those needs.

By offering loyalty programmes with personalised rewards, tiered benefits, and seamless access across multiple channels, you can foster customer loyalty and secure sustained growth for your business.